More
Before the Storm has recently found a fabulous new home after being acquired by Andrea and Nick Burne.
Return to Blue, Margaret River 2014
Nyanda Smith's opening speech for the exhibition 'Return to Blue' at The Margaret River Gallery. Click here to read.
Places, Melbourne 2014
Around three hundred people braved the cold and the wet to come to the opening of Jill recent exhibition 'Places' at the Alliance Gallery St Kilda, Melbourne.
This slideshow requires JavaScript.
"People and Movements: Artists of the 21st Century"
The Art Institute of Dallas
Please click here to read more.
The Earl of Huntingdon opens Jill Kempson's exhibition
Rebecca Hossack Gallery, London, July 2010
"Jill Kempson – place, time, connection"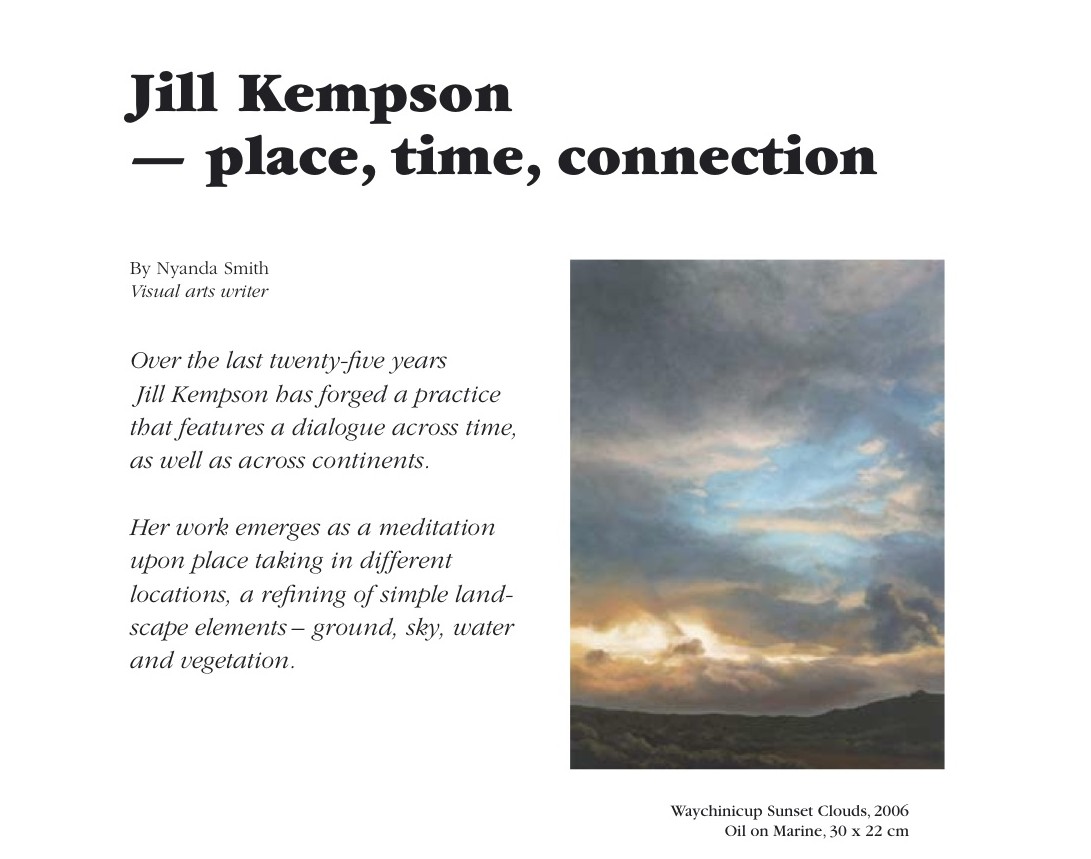 "Over the last twenty-five years Jill Kempson has forged a practice that features a dialogue across time, as well as across continents.
Her work emerges as a meditation upon place taking in different locations, a refining of simple land- scape elements – ground, sky, water and vegetation."
Nyanda Smith's essay on Jill Kempson –  (click here to read more).
Jill Kempson's Oeurve – Landscape in Perspective
This high quality, 64 page book on Jill Kempson's art practice was written by the French curator, art historian, and old masters' specialist Patrick Le Chanu and beautifully translated into English by his wife Karen le Chanu.
Jill Kempson's Oeurve – Landscape in Perspective was funded by a Mid Career Grant from ArtsWA (WA Government) 2010 and published in the same year.
Excerpts:
"Is landscape painting meaningful today? Since it's beginning it has had to struggle for legitimacy in the hierarchy of painting genres.  … Jill Kempson's oeuvre, in all its rich diversity, shows us that landscape painting has the capacity to express all the colours and dimensions of the human soul. Earth can be seen as representing stability, our roots; Water, serenity and peace; Sky, inspiration and hope; Light, the soul's aspiration for infinity.
"What place does landscape painting hold in the twenty first century? The rise of abstraction and conceptualism has mostly eclipsed this long established theme, but Jill Kempson is an artist who transcends the succession of styles and art genres.
"A key reason for this is Jill's continuation of the artistic tradition of the Grand Tour. Thanks to her travels and her studies of the old masters, she has been able to assimilate, then go beyond, the 'models', while developing her own vision and style. Jill's exploration of the art of the great masters has not been limited to an attentive examination of their works. She also familiarized herself with their techniques, which she studied at institutions internationally recognized in the examination, analysis and restoration of paintings.

"Among Jill's most striking paintings are her scenes depicting a natural world seemingly untouched by human intervention. These images of nature are sometimes peaceful, sometimes tormented, but there is still a harmony in the contrasting forces….In the different subjects she chooses, the numerous viewpoints adopted and formats used, Jill Kempson explores the landscape in all in perspectives. She succeeds in elevating this genre to it's rightful place, and establishes the landscape's role in expressing some of the essential issues of humanity today."
Design by Pascal Veydradier
Landscape in Perspective is held in The National Library of Australia and 6 Australian State libraries.
Please contact Jill at jill_kempson@hotmail.com if you would like to recieve a copy of Landscape in Perspective $15+postage.
Jill is available to do commissioned works, please contact her at jill_kempson@hotmail.com to discuss your proposed project